Today you have more choices than ever when choosing flooring for your home or business. You can count on Complete Construction DFW to guide you through the selection process. We'll consider aesthetics, of course, but we'll also talk durability, cleanability, acoustics, texture and more. Most importantly, we'll work to find the perfect flooring to fit your budget. Once you're final in your decision, you can count on us for quality installation and impeccable customer service.
Skilled Flooring Installers Make the Difference
We understand that how a floor is put down is what will drive the overall lifespan of the floor itself. Our team of flooring installers are trained in the best products for your home or business. You won't find us cutting any corners – unless it is to fit something in a corner! The ancillary installation products and tools we use have all been carefully vetted to ensure the final product we deliver exceeds your expectations.
We're proud of the flooring installation choices we provide for meeting your flooring needs. They include: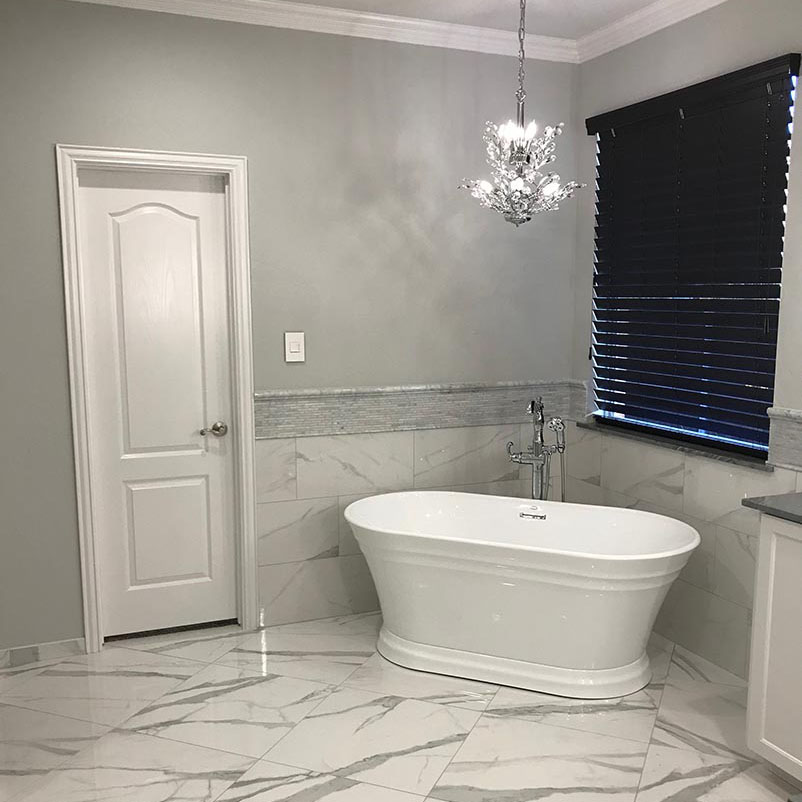 Wood Flooring
Rich and classic, wood floors continue to be a staple in homes in our area. We work with a wide range of wood species, including oak, maple, cherry, pine and bamboo. We offer a number of finishes, including hand scraped, Amish finish, sanded finish and traditional finish. Full service, we install new wood floors and refinish existing wood floors.
Engineered Wood
Complete Construction DFW installs a wide selection of engineered wood flooring, which is an excellent wood solution to save money when remodeling your home or business. Engineered wood flooring is also less susceptible to moisture damage and is unlikely to swell or warp. It can be sanded and refinished just like solid wood floors. And, once installed, it looks like solid wood flooring. Our flooring service offering includes installing new engineered wood flooring and refinishing existing engineered wood floors. We can do repairs to engineered wood flooring as well.
Carpet Installation
Carpet flooring provides warmth and texture. It is an excellent choice for bedrooms, living rooms and offices. Low-pile versions are often an excellent solution for high traffic locations. With Complete Construction DFW, you can expect quick and professional carpet installation. Of note, our team has the expertise to guide you through the carpet padding selection, a process that substantially influences the carpet look and feel. You can trust our team for proper cut and lay, and a final look and feel you will enjoy for years to come.
Tile Flooring
Tile is the gold-standard for kitchen and bathroom surfaces and floors. Today you can find more choices than ever before, including wood looks, intricate patterns, textured surfaces and more. At Complete Construction DFW, you can count on us to assist you with choosing the perfect tile solution for your home or business. Our team of trained installers takes the time to get the job done right, using extra care to create even lines and conduct effective grout work. Because we consider surface-prep to be one of the most important parts of a tile job, you can expect a smooth, even tile surface; one that won't result in cracked tiles down the road.
Laminate, Linoleum and Luxury Vinyl Flooring
Laminate, linoleum and vinyl flooring offerings have also come a long way in recent years. Today you can find a wide range of designs and colors. These products can be affordable alternatives to traditional wood planks, offering many widths and "species."
Laminate is typically constructed of high-density fiberboard that is covered with a printed layer mimicking wood or tile. We install laminate by floating it on the subfloor along with a protective underlayer that protects the floor surface from moisture damage. The underlayer also helps to create a quieter walking surface compared to a laminate floor without underlayment. Laminate floors are known for their easy maintenance and overall durability.
Linoleum is a natural product primarily made from sawdust and linseed oil composite. Eco-friendly, linoleum flooring comes in a wide range of colors and patterns; some designs mimic hardwood or tile. We install linoleum directly to the subfloor using a special adhesive. Linoleum offers a cushioned feel underfoot. Like laminate, linoleum floors are generally considered durable and low maintenance.
Luxury vinyl flooring, also known as LVT, is made primarily of durable vinyl. Using 3D printing technology, images are placed on the vinyl to provide for depth and a look of texture. Today's vinyl flooring options include many realistic "wood" and "tile" variations. These products come in many plank and tile sizes. At Complete Construction DFW we do both glue down and floating LVT installations and will work with you to find the best solution for your home or business. LVT is finished with a strong wear layer, contributing to the high durability of this flooring. It is a popular choice for some clients given the product's ability to withstand heavy traffic and remain virtually unaffected by spills, frequent moppings and other excess moisture.
Cork Floors
Cork, another eco-friendly flooring solution, has also grown in popularity in recent years. It is made from the bark of cork trees. It is generally sold in plank and tile options. The team at Complete Construction DFW is skilled at cork installation, conducting both the glue-down and floating varieties. We work with both solid and laminated cork. You can trust us to discuss the pros and cons of this unique flooring solution to determine if cork is right for you.
You can count on Complete Construction DFW for professional flooring selection consultation and quality flooring installation. We're here to guide you through the entire selection process and provide you with the look you are after. Contact us today to get started.