Home builders and professional real estate "flippers" often use the same flooring colors, textures and materials throughout a home for a cohesive design. Whether you want to sell your home or update it for your own pleasure, one of the major design challenges is mismatched and mixed flooring.
In the past, homeowners gravitated toward carpeting for bedrooms, ceramic tile for bathrooms and kitchens. Hardwood flooring in the living room was a different color than flooring in the dining room or home office. With the "open space" trend, mixed flooring doesn't delineate space as much as chop up the home. So, how do you give each part of the home its own personality and comfort while maintaining the modern simplicity and clean aesthetics that are so desirable?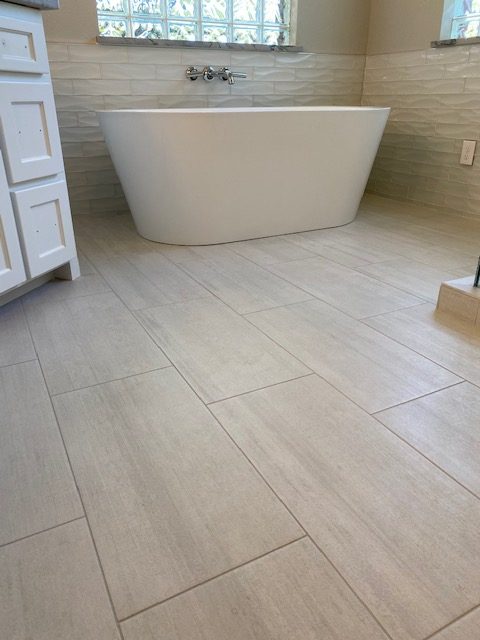 Choosing the main flooring
With a home remodel, decide on the material and color for the main living space such as an open kitchen, living room and entryway. Gray continues to be an on-trend neutral along with beige. If you have small children or senior citizens in the home, laminate and eco-friendly linoleum are good choices because of the soft and quiet surfaces.
Using rugs to spice up space
People who renovate their homes with luxury vinyl, laminate or linoleum with the traditional wood plank look achieve a unified design. Placing a shag rug or area rug in different rooms is a great way to personalize the space without compromising the resale value of your home. It's easy to play around with square, rectangular and circular rugs of different textures such as bamboo, rattan and various textiles.
Exploring the modern options
In the past, people chose specific materials for wet areas including bathrooms and kitchens. But with the more advanced products such as waterproof laminate and 3D printing technology, it's easier than ever to have virtually any look you want without the worry of moisture damage. Advanced techniques also means longtime homeowners may have their existing laminated floor refinished so that it blends well with any new flooring in the home.
While a single flooring appeals to many homeowners, ultimately it's all about what you want. When renovating for resale, opt for hard surfaces in the living and entryway. Remember you can always enjoy the feel of carpet in the bedroom by laying down area rugs. In the master bedroom or hobby room, play with a flooring color and style that is different from the main living area.
At Complete Construction DFW, we guide you through the selection process so your flooring complements the interior design plan. We are a general contractor serving the Dallas/Fort Worth area. For more information about wood, engineered wood, cork, carpet, tile, laminate, linoleum or luxury vinyl flooring installation as well as general kitchen and bathroom remodels, please contact us.