When buying a new construction home, some homebuyers overpay for the home builder's upgrades. In most cases, it's better to buy a basic new construction home without any of the bells and whistles. To save money and customize your new construction house, rely on a general contractor to complete everything on your home remodeling wish list. Consider a few points when deciding how to budget for kitchen, bathroom improvements as well as upgraded flooring.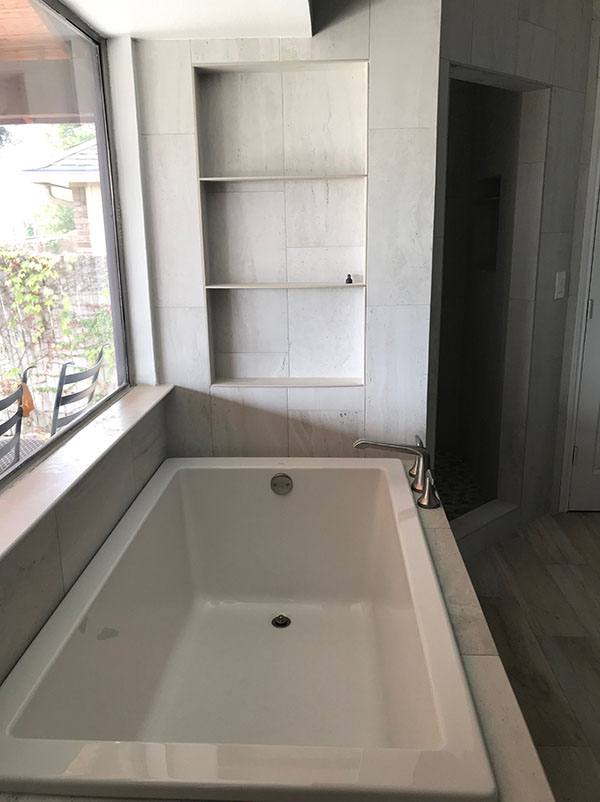 Timing the remodeling work
When improving a basic home, consider whether you want a contractor to change out flooring before moving in the furniture or after moving into the house. Depending on your schedule and family needs, one way might work better than another way. Some people like to get a year or two's worth of wear out of new carpeting before changing it out with laminate flooring, solid hardwood, ceramic or porcelain tile. If you decide to remove brand new carpeting, it's possible to donate the flooring or sell it rather than disposing of the basic flooring that came with a new construction home.
Prioritizing the rooms and features
When working on a budget, it's important to have a priority list. Some matters to consider include whether it's more important to change out cabinetry, countertops, flooring, sinks or bathroom tiles and fixtures. Do you entertain a lot in the kitchen and dining area or do you consider the bathroom your private retreat? Talking to a general contractor helps you work through questions such as if you need to replace cabinetry when changing out countertops. A professional helps you assess what's already on-trend and valuable in your new construction home.
Coordinating throughout
Some people think they can always find the same flooring, fixtures or countertops in the future only to feel disappointed when a product is no longer made. If you love the countertops in a kitchen, do you plan to coordinate it with countertops in the bathrooms? Also, consider who the flooring throughout the home flows. One major regret homeowners have is mismatching the flooring because products went out of style. Also, flooring won't flow when it's installed decades later because of sunlight bleaching and wear and tear.
While it's exciting to own a new construction home, most buyers want dozens of changes after moving into the house. An entire home remodel is not reserved for the fixer-upper home. To live in the home of your dreams, continue the progress and treat yourself to upgrades as your budget allows. In the end, it boosts your home's resale value and makes it more enjoyable to live day-to-day.
At Complete Construction DFW, we specialize in bathroom, kitchen remodeling, flooring, window installation and painting as a locally-owned general contractor. Our craftsmen make sure your remodeling project stays on time and on trend with the best aesthetics and high quality products. For more information about the services we provide in the Dallas/Fort Worth area, please contact us.