Making a small kitchen feel bigger is a popular goal for a small kitchen renovation. These ideas offer ways to make kitchens look more spacious by reclaiming wasted space and by flooding the kitchen with natural light.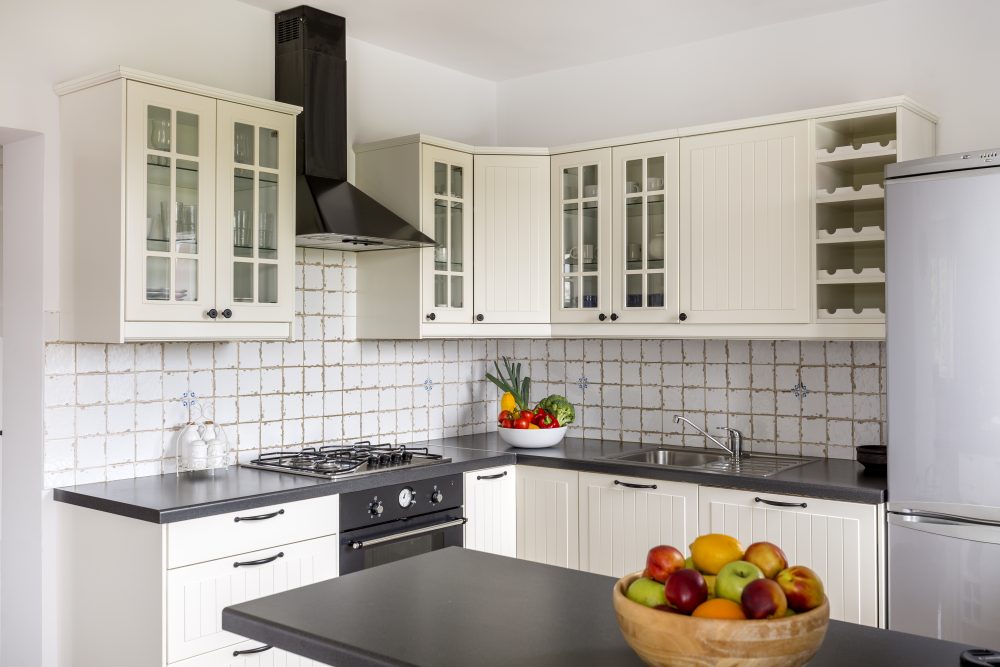 Recapture Existing Space
Install Recessed Lighting
Hanging lights take up space. Recessed lighting doesn't fill living space because it's in the ceiling. Another benefit of recessed lighting is it makes the ceiling look higher.
Remove Soffits
The boxy drywall structures that frequently are between kitchen cabinets and the ceiling are called soffits. Although some soffits cover wiring or plumbing, many soffits simply fill space. You can remove those soffits to get that space back. Then having your new kitchen cabinets extend to the ceiling becomes a possibility. Cabinets that go to the ceiling also make the ceiling appear higher.
Create Recessed Storage
This is storage that's in the wall and usually between studs. Recessed storage can be simple like a small, open shelf. However, a kitchen with few storage options may benefit from more extensive recessed storage. Homeowners have used recessed storage to create spice racks, rows of open shelving, and closed-door pantries.
Increase Natural Light
You have many options for making your kitchen feel more spacious with additional natural light. Possibilities include:
Enlarging existing windows
Adding new windows
Replacing a solid exterior door with a glass door
Installing a skylight
Using window treatments that offer light control
Adding solar tubes
Solar tubes are also known as sun tunnels. Unlike skylights, solar tubes can be installed on the first floor of a two-level home.
DFW Kitchen Remodeling Contractors
At Complete Construction DFW, we love helping homeowners make their vision come to life. Also, we specialize in assisting homeowners who want to upgrade their space, but they don't have a solution in mind. We can provide design solutions for your small kitchen remodel. Contact us for more information.